The cryptocurrency market is continuing to struggle. Its total cap slid to $2.26 trillion in the last 24 hours, a drop of roughly 4%. This means pretty much every major coin has fallen with it. However, one or two altcoins continue to rally amidst the bearishness. Meanwhile, recent falls have resulted in a situation where many fundamentally sound altcoins can be bought at a discount. As such, we've put together list of the 5 best altcoins to buy on low prices.
5 Best Altcoins to Buy on Low Prices
1. Decentralized Social (DESO)
At $132, DESO resides at the upper bounds of 'cheap', but it's pretty much the only top-100 cryptocurrency rallying right now. Its current price represents a 40% jump in the past 24 hours, as well as a 33% increase in the last week. On top of this, it has risen by 73% in the past 30 days.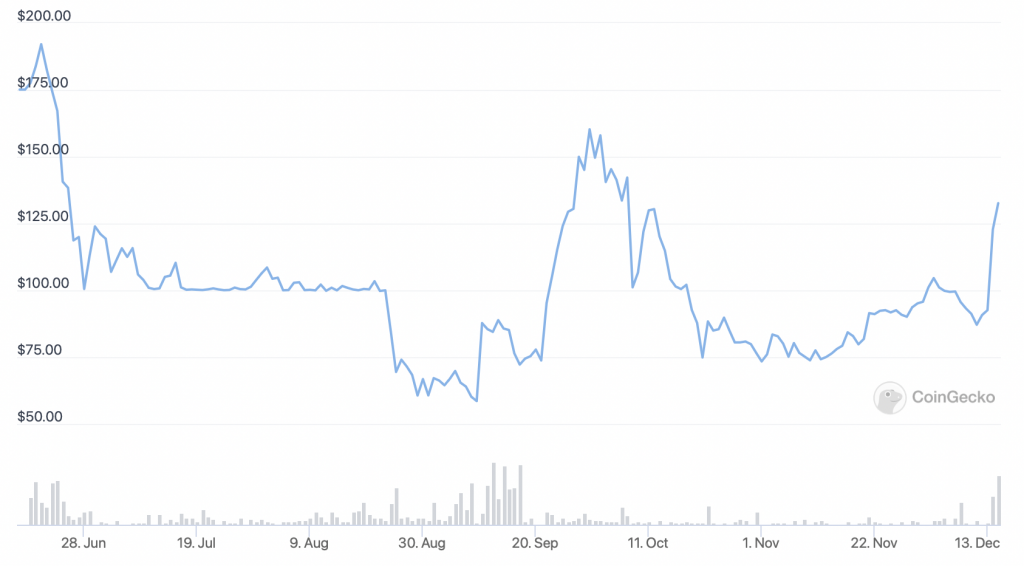 DESO is rallying in a big way at the moment. But at the same time, it has passed its all-time high of $198.68, set back in June. In other words, it's current rally could still have time left to run.
The main reason for DESO's surge over the past couple of days is that Coinbase Pro has announced it's listing the coin. In fact, trading begins at 9:00am today Pacific Time, so expect some volatility (either up or down) in the hours and days proceeding this launch.
DESO has also whetted market appetites due to its platform. It's the native token of the Decentralized Social network, a platform designed to support various decentralized social media applications. Within this network, it can be used to purchase NFTs and social tokens, and is necessary for creating profiles and posts for Decentralized Social apps.
It will therefore witness growing demand as the Decentralized Social network grows. And with plenty of hype surrounding Web 3.0 and the metaverse at this moment in time, 2022 could be a big year for it.
2. Syscoin (SYS)
SYS is another rare example of a cryptocurrency rallying during a bear market. At $0.750928, it has risen by 5% in the past 24 hours and by 30% in the past week. It's also up by 77% in the last month.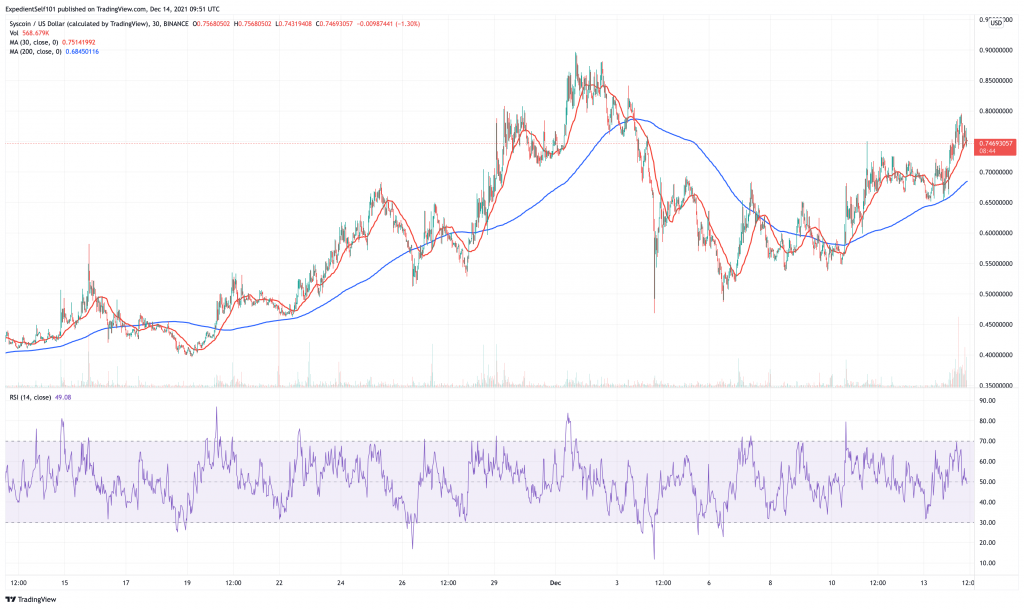 SYS's indicators point to an ongoing rally. Its 30-day moving average (in red above) continues to rise higher than its 200-day average (in blue), suggesting that it's reaching a new level. At the same time, its relative strength index (in purple), sits at around 50. In other words, its market is overcooked right now, and may indicate room for new entrants.
SYS has been rising steadily since December 7, when it deployed its own smart contract layer. This will enable the multi-purpose network to host apps related to DeFi, NFTs, the metaverse and decentralized autonomous organizations.
We have successfully deployed the first phase of our #NEVM #smartcontract layer on @syscoin.

Enabling everything currently possible on the #ethereum network such as #DeFi, #Metaverse, #NFTs, #DAOs, and even #memecoins!

👇Check out our update👇https://t.co/EuMQk1Z6rQ pic.twitter.com/44luzUeM2c

— Syscoin (@syscoin) December 7, 2021
More generally, Syscoin is an interest platform. Harnessing the hashpower used to mine Bitcoin, it's also Ethereum Virtual Machine-compatible. This basically means that it combines the security of the Bitcoin network with the wider functionality of Ethereum.
For this reason, it could be a platform to watch for the future. It's also why it's one of our 5 best altcoins to buy on low prices.
3. Cardano (ADA)
ADA is currently priced at $1.22, representing a fall of 6.9% in the past day. It's also down by 14% in the past week and by 40% in the last month.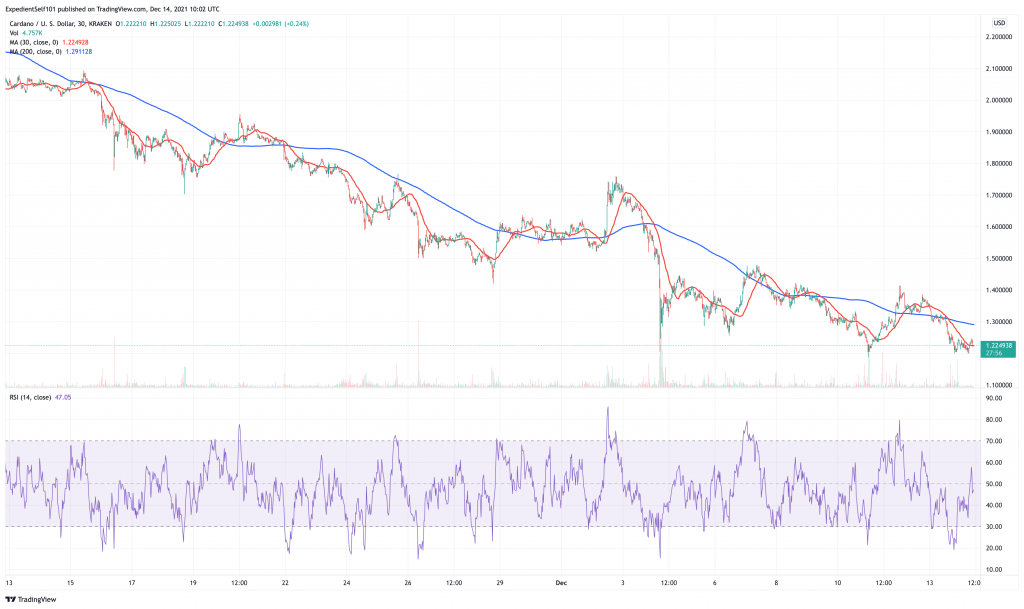 ADA's indicators suggest that it may be nearing the bottom of a slump. Its 30-day average is sinking further below its 200-day and may be close to a bottom. Meanwhile, its RSI is on its way to 40.
Once ADA reaches its bottom, it will be worth an investment. Its future prospects remain sound, supported by the slow-burning growth of the Cardano platform.
Even if it has hardly set the market alight, development on Cardano has been progressing ever since it rolled out smart contracts in September. Its weekly Github commits have been numbering over 2,000 for several weeks now.
Mid-week repo update: #Cardano code forges continue to burn bright 🔥 with 2,292 GitHub commits this week & counting…

To follow the latest code commits, bookmark the excellent https://t.co/Tj4Ebgc65u #Cardano $ADA pic.twitter.com/P8nrh7Yrpd

— Input Output (@InputOutputHK) December 8, 2021
Cardano also introduced Plutus Application Backend (PAB) on November 5. This is a suite of tools enabling developers to create and test dapps, and ever since it launched Cardano's ecosystem of apps has grown noticeably.
#Cardano ecosystem is already way bigger than you think#ADA community will impress you as our determination to make this world better is unstoppable 🌳

Have you discovered @CardanoCube map? 🌐

Almost 900 scripts have been deployed on #Plutushttps://t.co/7vc4qemBVx pic.twitter.com/DaWCOJipdy

— Cardashift – Impact Launchpad on Cardano (@cardashift) December 13, 2021
So while many of these dapps remain in a testing and development phase, they suggest good things to come for Cardano and ADA.
4. Ripple (XRP)
XRP is down to $0.780106 today, a fall of 5.7% in the past 24 hours. It's also down by 5% in the past week and by 35% in the last 30 days.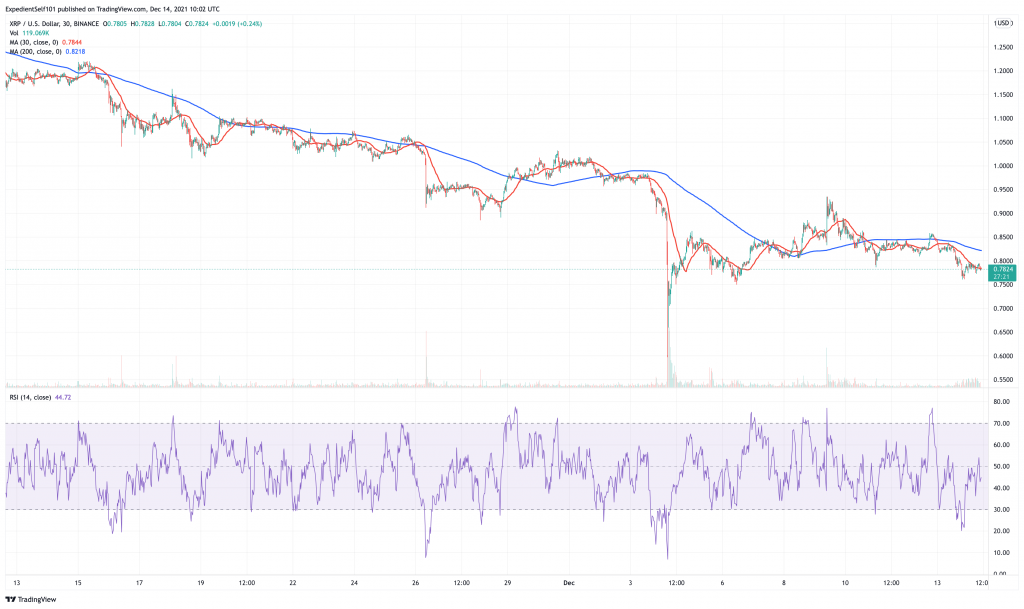 As with the rest of the market, XRP has been slipping gradually over the past month. Its 30-day average is sliding below its 200-day, while its RSI is at a very undercooked 40. Assuming that the market recovers soon (this is currently a big assumption), it would be well-placed for a strong rebound.
XRP is a tricky one. Ripple's ongoing case with the SEC makes the coin a risky investment to some degree. However, if Ripple gains a favourable outcome in this case, XRP will rally massively.
And yes, there appears to be a decent chance that Ripple will secure a favourable outcome. It has won a number of important concessions from presiding judges so far in the case, with its lawyers putting up a strong fight.
Att'y Solomon spitting fire once again:

"The SEC cannot have it both ways: If the Hinman speech was not a communication of agency policy then any deliberation regarding the speech is not entitled to any DPP protection…"

And THAT may be the phrase that wins the day for Ripple. https://t.co/JMrDAKBIG7

— Jeremy Hogan (@attorneyjeremy1) December 8, 2021
More fundamentally, even parts of the mainstream press have recently commented on how the SEC's case appears to weak, and based on contradictions of its own positions.
The New York Post putting Gary Gensler and the SEC on blast for the #XRP lawsuit against #Ripple pic.twitter.com/UDdSMKzWOC

— XRPcryptowolf (@XRPcryptowolf) December 13, 2021
Because of this, it may be worth having some XRP in your portfolio. This is why it's one of our 5 best altcoins to buy on low prices.
5. Shiba Inu (SHIB)
SHIB is $0.00003305 right now, a fall of 4% in the past 24 hours. It's also down by 10% in the past week and by 36% in the last month.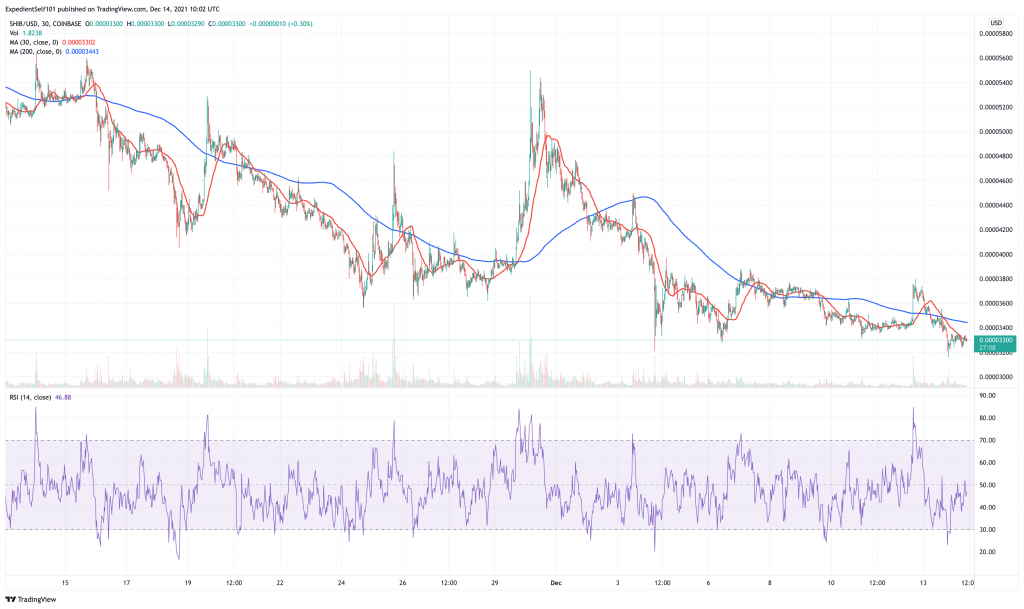 SHIB's relative strength index is teetering around 45. This suggests that it's a little oversold right now, as also suggested by its 30-day average moving below its 200-day.
While SHIB suffers the ignominy of being known as a 'meme coin,' it also boasts one of the most devoted community of followers in crypto. For example, its Reddit page now counts around 447,000 subscribers, up from 200,000 in early August.
It also continues to benefit from positive endorsements and items of news. Most notably, retailer Newegg announced at the end of November that it would be accepting payment in SHIB from early December onwards.
Hey #ShibArmy, how we looking on America's largest digital out-of-home billboard? @ShytoshiKusama #Shib

We'll be officially accepting @Shibtoken in by early December via @BitPay https://t.co/MR2ydiQpq6 pic.twitter.com/MyuxHSIjVw

— Newegg (@Newegg) November 30, 2021
Capital at risk
Read more: