Meme coins have skyrocketed in value in 2021, and the success of Dogecoin heralded the rise of the joke coins era. With the increasing acceptance of these fun crypto assets, investors are looking for the next meme coin cryptocurrency to explode.
This article discusses the next meme coin cryptocurrency with huge investment potentials.
1. Dogecoin (DOGE)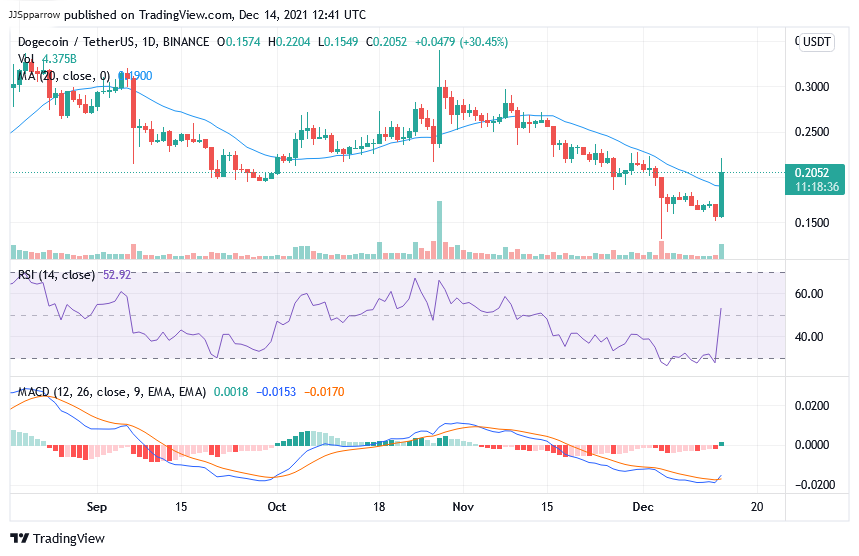 Dogecoin is another meme coin cryptocurrency to explode in December. DOGE is the number one meme coin with over $25.56 billion in market cap.
The meme coin is the favourite of Tesla and SpaceX CEO, Elon Musk, who has always been a proponent of Dogecoin. He holds a firm belief that Dogecoin will one day replace Bitcoin as a payment method.
Elon also maintained this position after he was named Times magazine's person of 2021, stating that Bitcoin is not a good digital currency for transactions.
Dogecoin, designed as a meme coin (without any real-world use causes) beyond a simple payment blockchain, has recently developed new use cases.
This has seen the popular memecoin being used as a third-party online tipping service for social media platforms like Reddit. DOGE is also now used for crowdfunding charity causes in organisations.
In a recent development, the tech billionaire has announced that Dogecoin will be accepted as payment for some products. This news has set Dogecoin on a rally as the digital asset has gained 26.69% in the last 24 hours to now trade at $0.2017.
2. Shiba Inu (SHIB)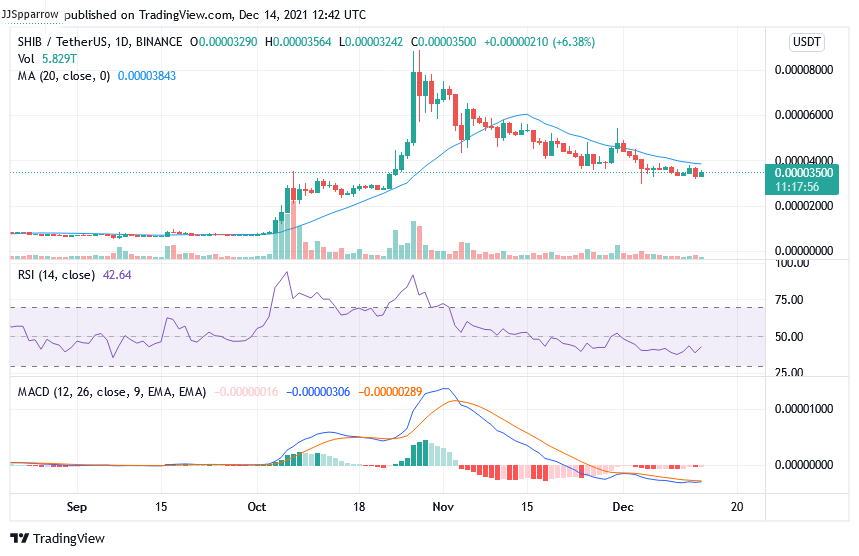 Shiba Inu is the number two meme coin in terms of market cap, and recent activity surrounding the meme token makes SHIB a meme coin cryptocurrency to explode in the days to come. Shiba Inu, named after the mascot dog of Dogecoin, went on a marauding rally early this year, gaining over 21,000%.
In October 2021, Shiba was the most searched meme coin on the internet during the digital asset's meteoric rise.
The Shiba community member dubbed 'ShibArmy' has shown strong support for SHIB. Reports have it that many Ethereum whales have been accumulating Shiba Inu coins, the same scenario that played out before SHIB went on a rollercoaster run a few months back.
According to Whalestats, a platform that records the transaction activity for the 1,000 largest Ethereum wallets, a crypto whale recently bought about 50 billion Shiba Inu coins worth $1.8 million. This inflow of huge funds into SHIB will likely see the price of the meme coin rally very soon.
Many popular exchanges like Kraken and big businesses worldwide have been adding support for Shiba Inu, making the puppy-theme digital asset a meme coin cryptocurrency to explode in December.
Alongside this, blockchain-focused payment processing company BitPay has also recently added support for SHIB. According to a blog post, BitPay merchants can now receive the ERC-20 token as payment for goods and services.
In addition, SHIB token holders will now be able to buy, store, swap, and spend their digital assets directly on the BitPay app. Shiba Inu is currently trading at $0.0000349, up 0.44% in the last 24 hours.
3. Samoyedcoin (SAMO)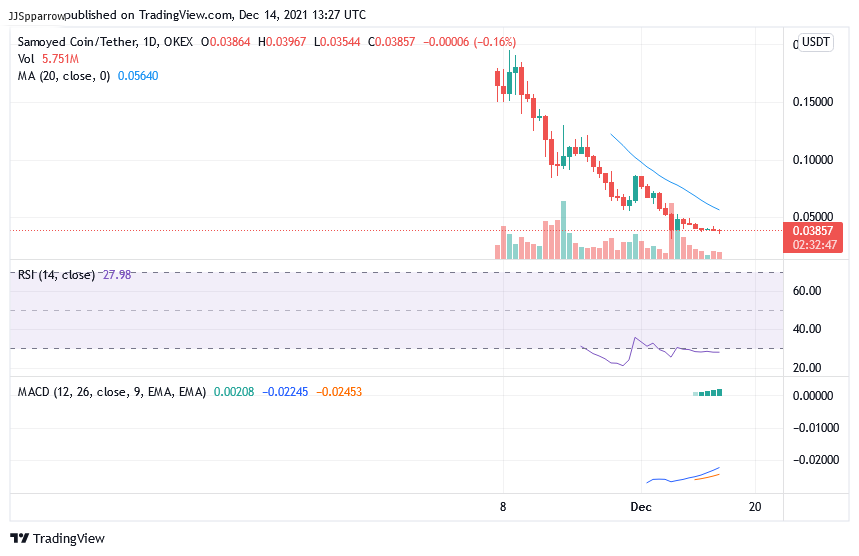 Samoyed coin is currently the 4th largest meme coin by market cap. The asset is trading at $0.03857, thus making SAMO one of the top memecoin cryptocurrency to explode in this tail-end of 2021.
Samoyed coin is a dog-themed meme coin on the Solano ecosystem. The joke currency aims to help grow Solana's ecosystem by appealing beyond its core, mostly composed of highly technological coins.
The Samoyed coin community believes in the project, and they have continued to provide strong support and publicity for the memecoin. Looking to also usurp the growing interest on Shiba Inu, the Samoyed coin is one of the first memecoins to grace the ecosystem of the popular Ethereum killer.
Since the coin is built on the Solana network, we expect Samoyed to have high scalability, eco-friendliness, and low transaction fees.
The digital token has recently partnered with fellow Solana resident The Grape Protocol to boost user engagement with its platform. According to a tweet, SAMO token holders will get access to exclusive events, giveaways, prizes, and other crypto tidbits.
4. Spell Token (SPELL)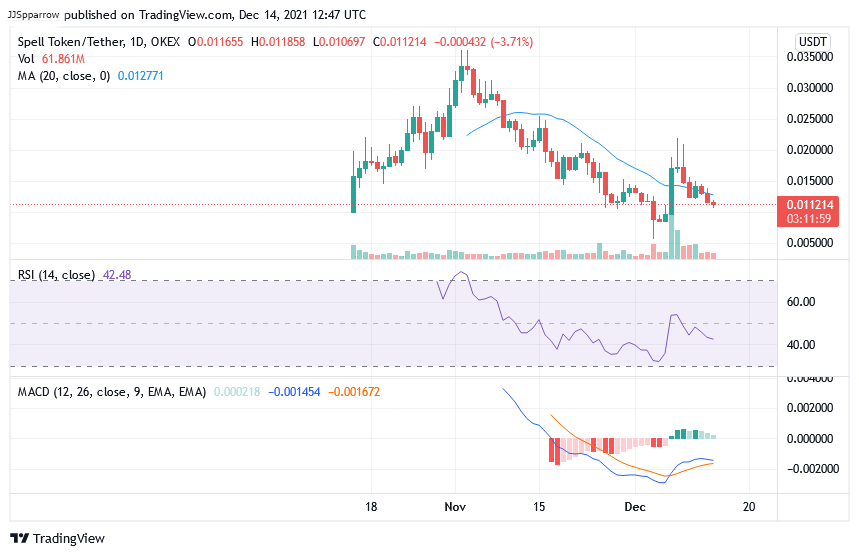 SPELL is an Ethereum token governing abracadabra.money, a platform that offers users the opportunity to borrow funds using other interest-bearing tokens as collateral.
This puts SPELL in the category of the best memecoin cryptocurrency to explode in the days ahead.
Users can stake SPELL and then earn SPELL, which grants governance rights and other rewards in return.
With SPELL, users earn incentives and voting rights whenever the token is staked. The trading volume of SPELL is over $51.75 million, up 11.98% in the last 24 hours.
The price of the SPELL token went up by over 50% last week when Coinbase Pro announced it would provide support for the meme token.
The digital asset is trading at $0.011214 after attaining an all-time high (ATH) of $0.03506357 on November 2.
5. Baby Doge (BABYDOGE)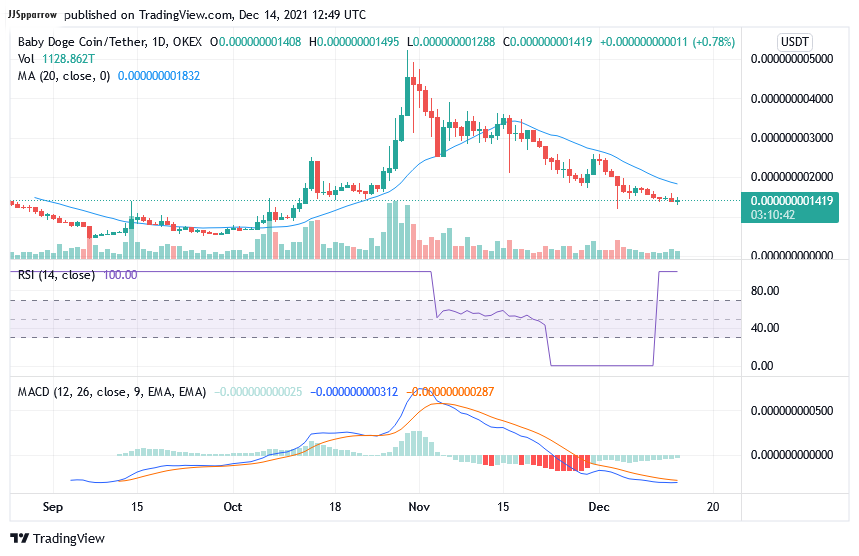 Baby DogeCoin is a memecoin that aims to be an improvement on Dogecoin. One of such improvements is in transaction speed.
The growing popularity of the joke currency puts it on the list of meme coin cryptocurrency to explode in the coming days. Holders of baby doge coins are automatically rewarded with a certain percentage of tokens from any transaction they make.
BabyDoge, which launched in June 2021, is an ambitious token that wants to foray and become a household name in areas like pet charity, non-fungible tokens (NFT) creation, GameFi and a lot more.
Babydoge coin attained an all-time high (ATH) of $0.000000005890 on July 4, but the digital asset is currently trading at $0.000000001419.
Following in the footstep of most meme coins, BabyDoge has also snatched listing prizes on a number of centralised exchanges.
One of the latest is MEXC Global which recently added support for the parody coin. In a further boost of the token's potential, MEXC Global is giving away a car and money prize as a way to incentivize traders.
Read more: