The cryptocurrency market continues to seesaw between recovery and renewed declines. Its total cap is down by 3% in the past 24 hours according to CoinGecko, dropping to $2.3 trillion. Most major coins have fallen along with it, including bitcoin (BTC), ethereum (ETH) and solana (SOL). However, the weekend brings the possibility of another rebound, a pattern the market has witnessed repeatedly in recent weeks. The following 5 cryptocurrency could see a price boom this weekend, with many also exhibiting good long-term potential.
These 5 Cryptocurrency Could See Price Boom This Weekend
1. Arweave (AR)
AR has had a very good 24 hours, rising by 13%, to $49.26. It's also up by 17% in the past week, but down by 19% in the last month.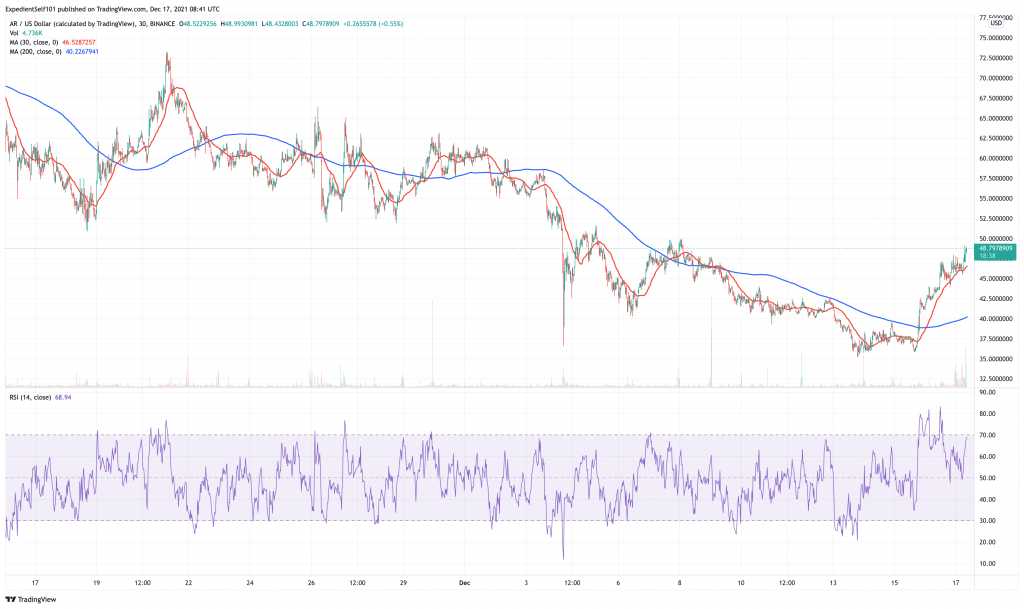 AR's indicators suggest a big breakout has just happened. Its relative strength index (in purple above) is nearing 70, suggesting some very strong momentum. Similarly, its 30-day moving average (in red) is rising convincingly above its 200-day average (in blue). Its momentum therefore suggests that it still has some way left to rise.
As a decentralised information storage network, Arweave lets users store documents and applications in perpetuity. This might make it sound a lot like Filecoin. However, Arweave distinguishes itself via its novel architecture, using a "blockweave" instead of a blockchain. Basically, the blockweaves enables nodes to act as validators without having to possessing the network's complete history. In theory, this enables it to be more scalable than other platforms, something also helped by the use of a proof-of-access consensus mechanism and also the use of "blockshadowing" (i.e. not sending the full block to nodes).
Arweave began rising earlier this year thanks to its integration with Solana in late August. Its network now underpins many of the NFTs and NFT platforms also operating on Solana. And because of this, Solana's growth this year has also fuelled Arweave's.
More recently, the platform has celebrated increasing its usage by over 50 times in just under a year. Its daily transactions are now up to nearly 2.2 million, up from 111,764 just before September.
Another all time high. Over 50x more usage in less than a year 🙂.

Max daily TXs last year: 41,754.

Pre-September: 111,764.

Today: 2,191,612. https://t.co/bj26glw1Eo

— Sam Williams 🐘 (@samecwilliams) December 17, 2021
2. Avalanche (AVAX)
AVAX is one of the few major coins to have risen in the past 24 hours. At $104.74, it's up by 1.7% in the past 24 hours and by 2.3% in the past hour. It's also up by 21% in the past week, despite being down by 3% in the last 14 days.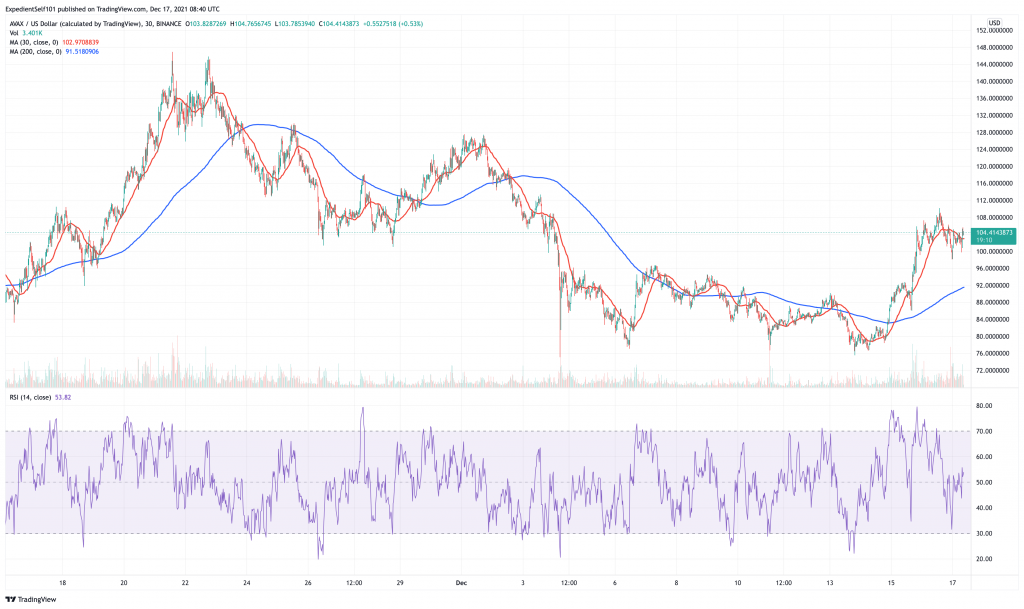 AVAX has interesting technical indicators. Its relative strength index is teetering around 50, indicating that it's neither overbought nor oversold. Its 30-day moving average, however, is firmly remaining above its 200-day. This suggests it's in the process of reaching a new level.
Avalanche as a platform has many things going for it. Its total value locked in has risen from just under $4 billion at the start of October to $11.4 billion today, a rise of around 200%. It now accounts for nearly 5% of the total DeFi space, having launched only one year ago.
Avalanche's future growth will be helped significantly by the $200 million development fund it launched in November. Together with its $230 million investment from Polychain Capital and Three Arrows Capital in September, this fund puts it in a very good position to rally strongly in the not-too distant future.
The Avalanche Foundation has launched Blizzard, a $200M+ fund dedicated to accelerating development, growth, and innovation across the #Avalanche ecosystem.

Check out the full details below ⬇️https://t.co/AR25D8E2lL

— Avalanche 🔺 (@avalancheavax) November 1, 2021
Indeed, Avalanche now boasts an ecosystem of nearly 400 projects. This is why it's another one of our 5 cryptocurrency that could see a price boom this weekend.
382 projects in 14 months the rapidly growing @avalancheavax ecosystem.$AVAX #AVAX pic.twitter.com/fHBF1wMVDN

— Coin98 Analytics (@Coin98Analytics) December 9, 2021
3. Iota (IOTA)
IOTA is up by 3.9% in the past 24 hours, to $1.18. This is a 1.4% rise in the past hour, as well as a 2% rise in the past week. On the other hand, IOTA has fallen by 21% in a fortnight and by 14% in a month.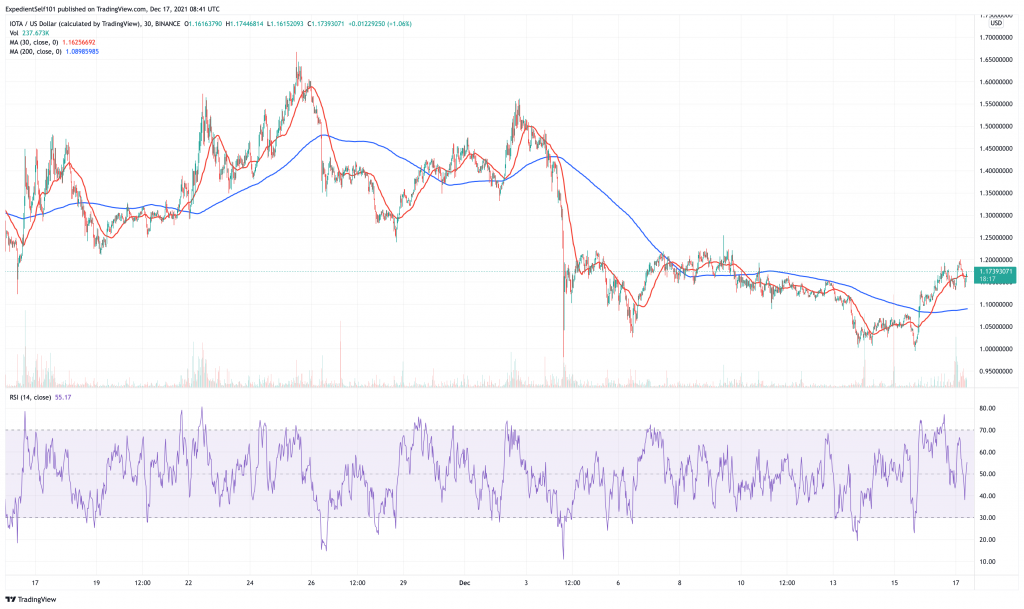 IOTA's indicators hint that a rally may be brewing. Its RSI is rising quickly up to 60, while its 30-day average also overtook its 200-day yesterday.
The market has regained an interest in IOTA ever since November 16, when the platform launched staking.
Today we officially unveil #IOTA Staking! 🚀

All #Shimmer tokens will be distributed to IOTA stakers. Stake your $MIOTA to get free $SMR tokens.

Be early and get your share of a new token economy. https://t.co/jn83hPTrza@shimmernet

— IOTA (@iota) November 16, 2021
IOTA did fall again after the launch of staking sparked a rally. However, more recent news has resuscitated IOTA's fortunes. In particular, several Asian venture capital firms invested $100m in Assembly, a multi-chain smart contract network launched by Iota in early December.
$100 million committed to @assembly_net! Thank you
@HuobiVentures, @LD_Capital, @CapitalHashkey, @Signum_Capital, @hyperchainC, @gsr_io for helping to boost ecosystem growth🚀! https://t.co/0aq5rM7yDU#IOTA #Assembly

— IOTA (@iota) December 10, 2021
While Assembly is meant to be a separate chain from Iota, it will increase demand for IOTA. That's because the latter is required for staking on Assembly, and for sister network Shimmer, which was also announced by Iota at the same time.
4. Bitcoin (BTC)
BTC is down by 3.5% in the last 24 hours, to $47,046. It's also down by 16% in the past 14 days and by 22% in the past month.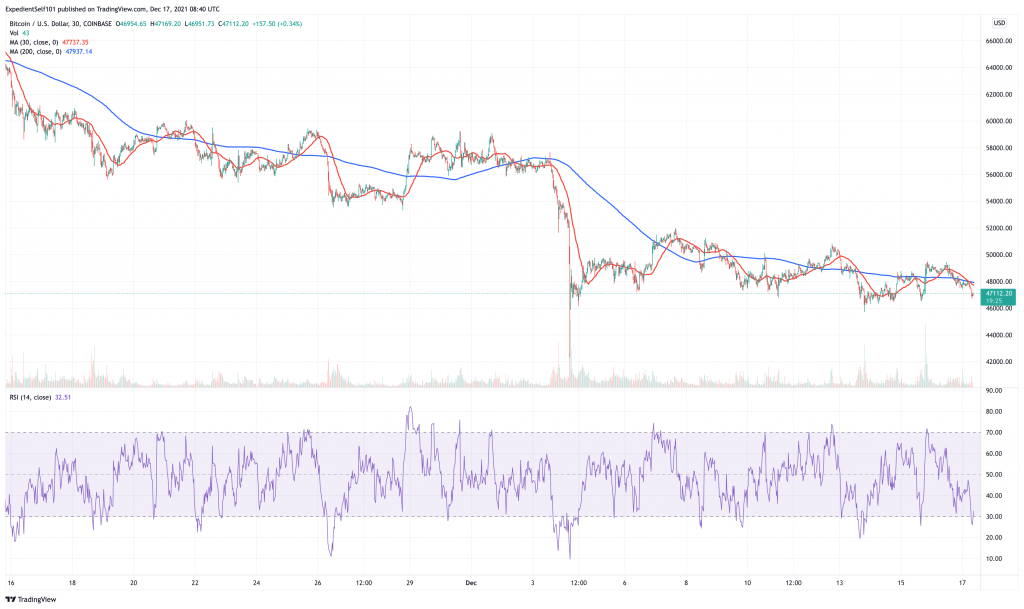 BTC's technical indicators suggest that it's ripe for a rebound. Its relative strength index (in purple above) recently sunk below 30, indicating that it's distinctly oversold right now. At the same time, its 30-day moving average (red) has potentially reached the point at which it will begin rising up towards its 200-day average (blue) again.
BTC is almost always a good bet for price booms because of its role in the cryptocurrency market's cycles. When it falls, it drags the whole market down with it. And its rising is usually necessary if the market is to recover.
In other words, if you expect the market to rise this weekend, it would be inconsistent to think that bitcoin won't rise as well.
More generally, BTC continues to attract interest from mainstream institutional and retail investors, and more so than other cryptocurrencies. For instance, the Indiana-based STAR Financial Bank launched bitcoin-trading services for its customers on December 2, in partnership with NYDIG and Alkali. And earlier in November, the Commonwealth Bank of Australia announced a similar service for its customers.
It's this kind of interest which underlines why bitcoin remains one of our 5 cryptocurrency that could see price boom this weekend.
5. Ethereum (ETH)
At $3,900, ETH is also down by 3.5% in the past 24 hours. Its current price also represents a 6% fall in the past week and a 14% fall in the past fortnight.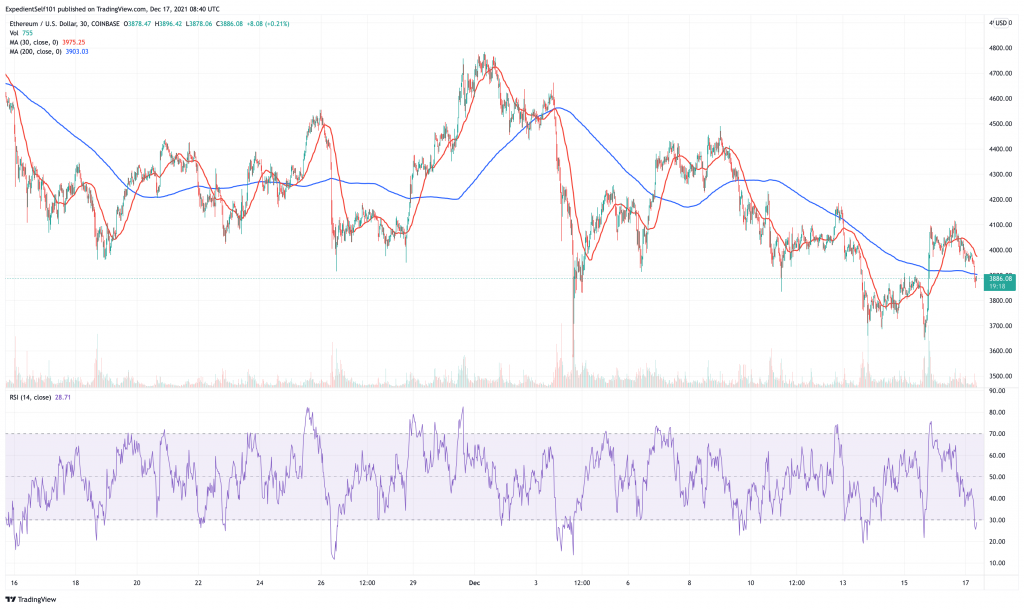 ETH's indicators are similar to BTC's. Its RSI is currently below 30, suggesting that it's strongly oversold. On the other hand, its 30-day average is above its 200-day but seemingly on the way down. However, ETH is up by a modest 0.3% in the past hour, so we could potentially see the 30-day average rise up again. Particularly when ETH's RSI is so low.
As with BTC, ETH has plenty of fundamental reasons why it's a good buy. Most notably, Ethereum remains the biggest smart contract-capable blockchain around. It accounts for $160 billion in total value locked in, representing some 65% of the DeFi sector.
Ethereum is also working patiently towards its transition to proof-of-stake next year. As part of this, it rolled out the London upgrade in August, which introduced fee burning. This has made ETH a deflationary cryptocurrency, with the move to Ethereum 2.0 likely to accelerate this trend.
$ETH is on the path of becoming deflationary

Crunching some numbers since the EIP-1556 was implemented:
– Over 914,680 ETH has been burned
– Meaning that ~9,056 ETH are being burned daily
– Net Issuance dropped to 0.07% in November, as the percentage of fees burned is ~87% pic.twitter.com/Iggi3Sz5ty

— Daniel Ferraro (@danielferraros) November 17, 2021
And like bitcoin, ethereum is also attracting interest from institutional investors. So even if it's down right now, it's another cryptocurrency that could see a price boom this weekend.