The crypto market is consolidating, and similar to what has been happening in recent days, some altcoins are setting themselves apart by making gains while the market is losing. WAVES is among the altcoins making notable gains, and because of this, it has reached weekly highs.
WAVES is trading at $19.34 at the time of writing after an 11.5% gain in 24 hours.
WAVES price analysis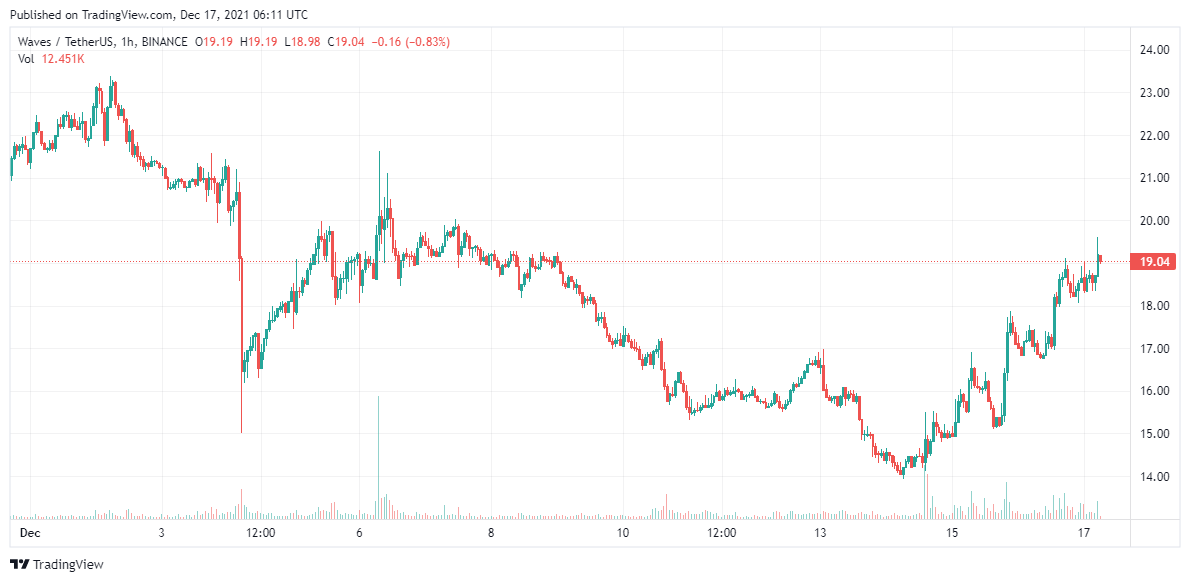 WAVES has been making a slight recovery over the past few days after a major dip that happened earlier in the week. The coin is currently trading at weekly highs because of increased buyer support.
If WAVES continues with its bullish rally, it could push towards the next critical resistance at $20. $19 is the highest level achieved during the past 24 hours, and a continuation of buying pressure could allow the coin to push to these levels again.
Currently, the altcoin is 55% short of its all-time high of $43, and it was unable to reach these levels like most tokens during last month's bullish rally.
On the downside, there is also a chance that the altcoin could also dip. In this case, it could retreat towards $17. Another dip towards $14 could also happen if the selling pressure is strong, after which the coin could erase most of the gains made.
Currently, the market support is low, and if it continues to lack, there is more probability of the altcoin making a downtrend than an uptrend in the near term.
The Waves blockchain has positioned itself in a unique position because it allows users to develop and launch their own custom tokens. Waves allows developers to create and trade crypto tokens without using smart contract programming. Instead, these tokens are operated in user accounts on the blockchain. This unique offering creates the potential for more gains.
Where to buy WAVES
If you want to buy WAVES during the current bulls, you can create an account on the following platforms:
eToro is one of the reputable exchanges in the market. The exchange comes with support for a copy trading feature that allows a new trader to copy the trading strategies used by expert traders. It also has a user-friendly interface.
You can buy WAVES from Crypto.com. This is one of the leading exchanges, and it is supportive of a variety of altcoins. Crypto.com also charges competitive trading fees and offers user-friendly features.
Your capital is at risk.
Read more: